ATL International Night Market
10/6/2018 5:00 PM
ATL International Night Market.
Dates: Fri-Sun, 1​0/5-7, 201​8​
Nonprofit organization dedicated to bringing people together under the night sky for a celebration of culture, community, & international cuisine. With a projected attendance of over 50,000 people from Atlanta and neighboring states, this family-friendly 3-day event celebrates diversity, culture, cuisine and community--over 70 different countries! 150 food vendors (24 vegan food vendors, and at least 1 halal vendor in attendance. You can check out our 2017 vendors on our website here: http://atlnightmarket.org/november-vendors/ ) and 50 retail vendors who will help to make the night market experience unique and memorable. With a veritable variety of sights and sounds, activities for kids, an artisan market, a veggie festival (2 Veggie Villages, 100% vegan), musical performances, street performers, buskers and tasty authentic cuisine, this event has something for everyone to enjoy.

The mission of the AINM is to provide a place where people from all nations can enrich their lives through experience with food, performances, games and the visual arts to nourish and delight the mind and spirit while celebrating diversity and community.
Saturday Oct 06, 5:00 PM – Midnight
Celebrate and experience Pakistani culture, live dhol music, dance, food, drinks and decor at the Atlanta International Night Market, where Pakistan will be proudly represented through cultural dance performances on stage as well as a Pakistan booth!
Over 70 countries will be represented. Please join us and represent Pakistan. ​
To highlight our VEGGIE VILLAGE this year we are holding DAILY giveaways right up until the event begins! All you have to do to enter is leave your name and email here: https://atlnightmarket.org/giveaways/

We will draw RANDOM winners from the emails provided at 11:00 PM each night. Winners will be notified by email. Follow this link to enter the daily giveaways. You will only need to complete this form one time. Daily winners will be chosen from the email entries.

DAILY PRIZES include 4-packs of Weekend Passes to the event and other raffle prizes (all valued at over $75) provided by our Veggie Village sponsors.​

VEGGIE VILLAGE 2018 - A 3 Day Plant-Based Festival inside the Atlanta International Night Market! Enjoy delicious Plant-Based cuisines from our international vendors and shop for retail vegan items such as Vegan Leather and Vegan Skin Care products in our Veggie Retail Village!

Last year:
Bharathadarshana (School of Indian Classical Dance & Music) - bharathadarshana.org on Friday at 9:15pm
Jaya Devraj will be

singing Indian folk music ("janapada")
ASC Mehebani, Anoushka Pant, Indian fusion on Saturday at 8:50pm​
Moksha will dance there again this year.
Raksha is proud to be a nonprofit partner of the Atlanta International Night Market! Come over and check out our goodies on Friday, October 5th!
Dates: Fri-Sun, 1​0/​5-​7, 201​8
Times: Opening Night (Friday, 5 pm – Midnight)
Day 2 (Saturday, 5 pm – Midnight)
Day 3 – Family Day (Sunday, 12:00 noon – 9 pm)
Venue: NORTH POINT MALL, 1000 North Point Circle, Alpharetta, GA 30022
Tickets:
EARLYBIRD PRICING (June 5th-July 31st):
1 Day Pass = $5
Weekend 3-Day Pass = $10

ONLINE PRICING (Aug 1st-Oct 4th):
1 Day Pass = $7
Weekend 3-Day Pass = $14

AT-THE-DOOR PRICING (Oct 5th-7th)
1 Day Pass = $10
Weekend 3-Day Pass = $18
*Quoted prices do not include Eventbrite ticketing fees
You can save money and time by ordering tickets on our website, Eventbrite, Facebook, or Instagram!​
Contact: 770-722-1237, info@internationalnightmarket.org, http://atlnightmarket.org/entertainment/, http://atlnightmarket.org/a-celebration-of-diversity/
​
​Moksha (above)
​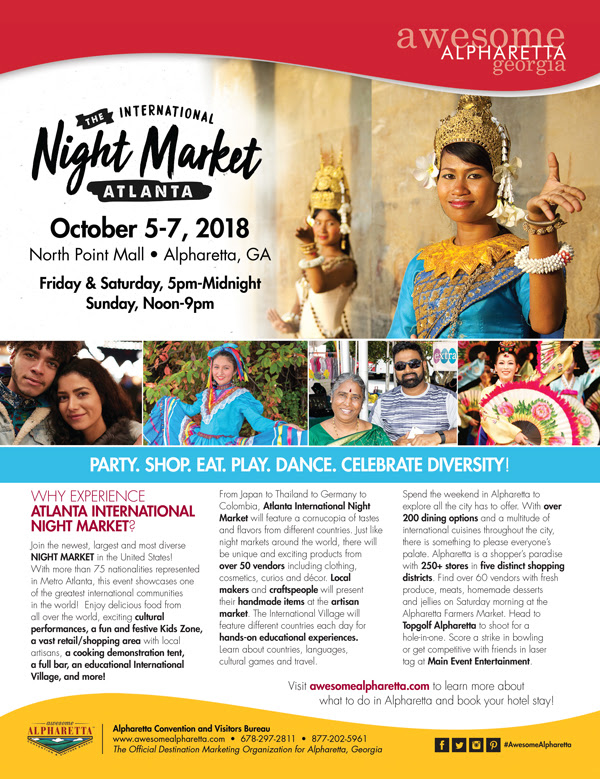 ​