Carlos Reads "Godsong"
1/27/2020 7:30 PM
Carlos Reads Godsong
MONDAY, JANUARY 27, 2020, 7:30 – 9PM EST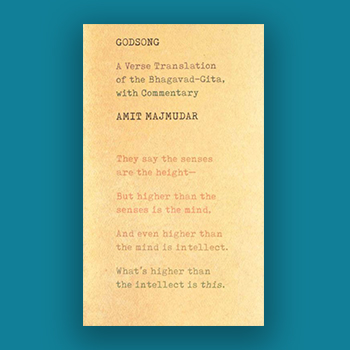 Location

Michael C. Carlos Museum
Board Room

Department / Organization

Carlos Museum

Membership Link

carlos.emory.edu…
The Bhagavad-Gita has been translated into English more than 300 times. Professor Deepika Bahri of Emory's Department of English leads readers through the most recent translation, Godsong, poet Amit Majmudar's 2018 translation of the 700 Sanskrit verses from the Mahabharata. For Majmudar, the story of Arjuna and Krishna "imagined a relationship in which the soul and God are equals." It is, in his words, "the greatest poem of friendship in any language."
"Ravishing and faithful, marked by what Nabokov once called 'the precision of a poet and the imagination of a scientist.' Majmudar has a gift for imagery . . . Godsong reveals how beautifully this 2,000-year-old book lends itself to the careful, loving work of translation." —Parul Sehgal, The New York Times
Fee: $25 for Carlos Museum members; $40 for nonmembers, and includes the cost of the book. Space is limited (SOLD OUT), and registration is required by calling 404-727-6118.