Children's Workshop: Painting the (Jain) Cosmos
11/17/2019 2:00 PM
Children's Workshop: Painting the Cosmos
SUNDAY, NOVEMBER 17, 2019, 2 – 4PM EST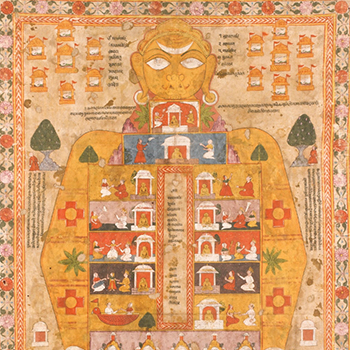 | | |
| --- | --- |
| Location | Tate Room |
| Department / Organization | Carlos Museum |
| Membership Link | carlos.emory.edu… |
Sign Up
The painting of the Jain cosmic man on view in the Asian galleries beginning October 12 is a visual representation of the Jain conception of the universe. Children will look closely at the painting, exploring the various realms inhabited by humans and other beings. Then they will move to the studio to create their own painted version of the cosmos with artist and illustrator Ande Cook.
For more information, contact Alyson Vuley at 404-727-0519 or avuley@emory.edu.
For elementary school-aged children. Fee: $15 for Carlos Museum members; $20 for nonmembers. Online registration is required.