First Global Nepali Health Conference & Health Festival
9/22/2019 9:00 AM
Contact: https://www.facebook.com/events/436165793898481/
ALSO
Free Medical and Vision Screening, Health Festival during 1st Global Nepali Health Conference. (Free lunch provided for first 100 people)
Sept 21: 10am-2pm
Venue: Greater Atlanta Vedic Temple Address: 492 Harmony Grove Dr., Lilburn, 30047-GA Visit: www.nrna.org/ghc​
​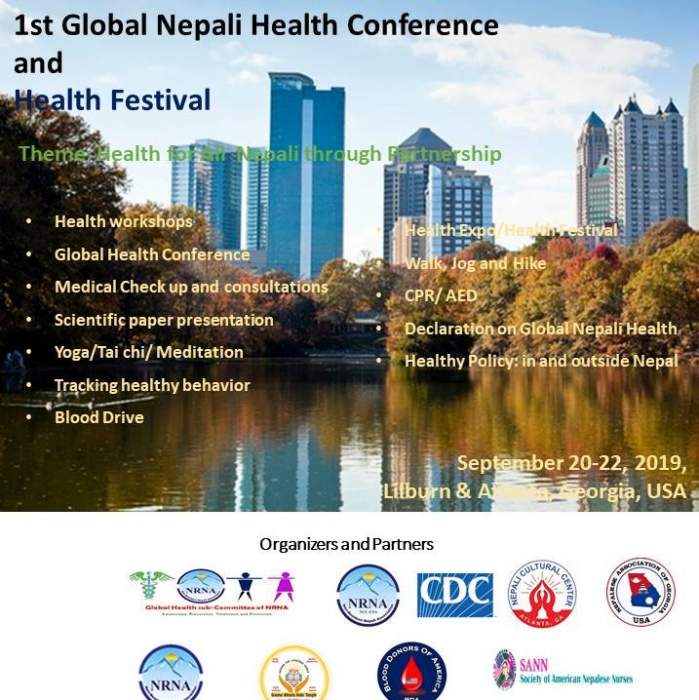 First-ever Global Nepali Health Conference being held in Georgia, United States
Global Nepali Health Conference and Health Festival is being held in Lilburn, Georgia in the United States during Sept 20-22, 2019.
"The purpose of this conference is to bring Nepali and friends of Nepal, individuals and organizations, who care, work and concern about the health of Nepali around the world under one roof and discuss matters related to their health," said Dr. Sanjeeb Sapkota, the chair of Health & Hygiene Committee of NRNA and the chair of the organizing committee of the conference. "This is the first-ever global conference of its kind focused specifically on the health of Nepali living outside and in Nepal," he said. "Concurrently, there will be Health Festival/Health Expo, medical camp, physical activities (walk, jog, run, yoga, Tai-Chi), blood drive, scientific paper presentation, discussions on policy of health of Nepali in and outside of Nepal, declaration on global Nepali health," Said Dr. Sapkota. "There will be ample opportunity for networking, partnership, and collaboration on matters related to Health of global Nepali community, and more," he added. A thirty-plus member organizing committee has already been rolled out to plan and prepare the conference and the health festival/ health expo. They represent multiple organizations that are organizing the conference including Global Health & Hygiene Committee of NRN, NRN-USA, Greater Atlanta Vedic Temple, Society of American Nepali Nurses, Nepali Cultural Center, Nepalese Association of Georgia, Blood Donors of America and more.