Gwinnett Interfaith Prayer Breakfast
5/3/2018 7:30 AM
Thursday, May 3, 2018
7:30 am-9:30am
Infinite Energy Center
The Gwinnett observance of the National Day of Prayer unites diverse faith communities in a prayer for the continued success of our country.
The breakfast is organized by Gwinnett business, faith and civic leaders as a celebration of diversity and will feature the Ismaili Muslim Choir and other cultural performances and guest speakers.
Join faith leaders from around the region for the inaugural Gwinnett Interfaith Prayer Breakfast on to be held on Thursday, May 3, at 7:30 am at the Infinite Energy Center in Duluth. The Gwinnett observance of the National Day of Prayer will bring together leaders of all faiths to pray for our community. A committee of faith, business and non-profit leaders will plan this year's inaugural breakfast.
The National Day of Prayer was created in 1952 by a joint resolution of the United States Congress, and signed into law by President Harry S. Truman. It is a day that transcends differences, bringing together citizens from all backgrounds. This annual observance held on the first Thursday of May, invites people of all faiths to pray for our nation.
The program will feature key speakers such as Keith Parker of Goodwill North Georgia, Doug Shipman Woodruff's Art Center and guest MC Angela Harrington with the Atlanta Interfaith Community Initiatives as well as various faith leaders, performances and a celebration of unity. Our goal is to unify our community across faiths and come together in the spirit of community, education, service to others and love.
We want everyone to leave inspired, motivated, and a stronger sense of community belonging.
Venue: Infinite Energy Center, 6400 Sugarloaf Parkway, Duluth, GA 30097
$20 includes breakfast.
​RSVP/Contact: here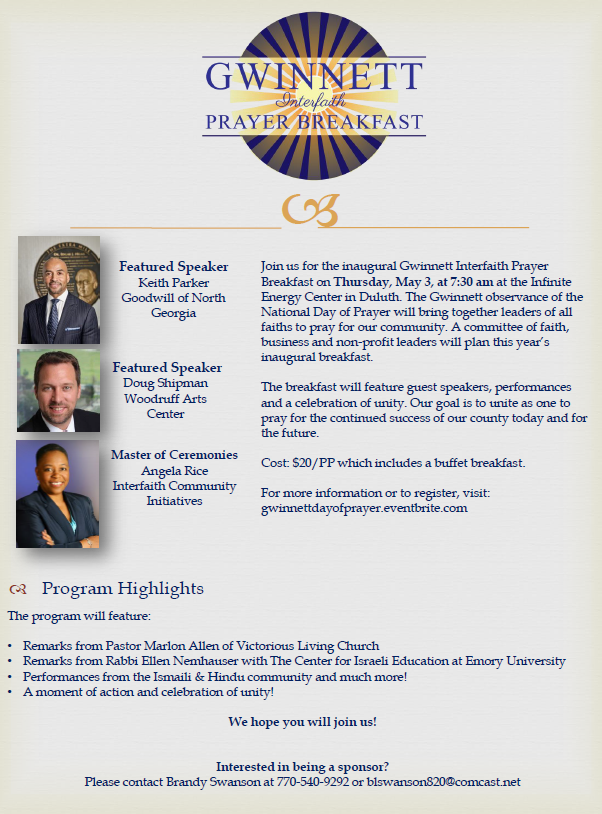 ​