Ian Boccio: Mala-Making Workshop
4/26/2015 11:55 AM
Mala Making Workshop
with Ian Boccio and Caroline Dunham
Mala are a string of 108+1 beads that are used and worn as a part of Mantra Yoga (the repetition of mantra chants) and other practices.
Making the Mala is a spiritual practice that cultivates presence, patience, contentedness, generosity, and non-attachment. Every Mala made teaches a lesson as unique as each bead strung.
Join Ian and Caroline for an afternoon to learn the basics of Mala use and making, chant mantra, and make your own Mala.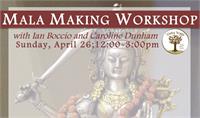 Date: Sunday, April 26, 2015
Time: 12:00-3:00pm
Venue: Vista Yoga, 2836 Lavista Rd, Suite D, Decatur, GA 30306
Cost: $60
an additional $15 material fee covers the cost of materials to make a Sandal Wood Mala
Register: Click HERE to reserve your spot now!
Contact: Ian Boccio, www.bluespiritwheel.com