Music: "Empty Hands"
7/26/2014 6:00 PM
JOIN US:
For a inspiring and unique evening of stories and songs (at the Gandhi Statue!)
that will uplift your spirit and bring you back to thinking about what is important in your life!
The night will be filled with live outdoor performances from Nimo's love offering album, Empty Hands
as well as local story tellers and poets, with themes dear to us all (especially Dr. King Jr. and Gandhi):
Kindness and Gratitude.
For more on the spirit of the Empty Hands Pilgrimage check out this inspiring video.
Date: Saturday, July 26, 2014
Time: 6:00 pm to 9:00 pm
6:00 - 7:00 Welcome/Light Meal
7:00 - 9:00 Empty Hands Music/Sharing Program
Venue: MLK National Historic Site/Mahatma Gandhi Statue, 450 Auburn Avenue NE, Atlanta
Contact: Register Now
Gandhi Foundation USA
Empty Hands Music
Absolutely Free!
Download the album for free.



SPECIAL NOTE:
Please bring any extra blankets or padding to sit on the lawn or ground as this will be an outdoors event. We will have chairs for elders who need them.

RAIN LOCATION:
Will be announced as we get closer.

BACKGROUND:
From an Ivy League education to working on Wall Street to burgeoning fame as an MTV rap star and then...to volunteering in the slums of Ahmedabad, India, Nimesh Patel (affectionately known as Nimo) has traversed both the well-worn path to "success" as well as a "road less traveled".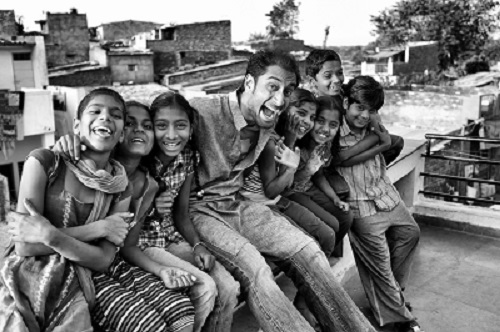 It's said "the longest journey you will ever take is the 18 inches from your head to your heart," and Nimo has quietly walked that path, which included giving up music altogether (including listening to it for a year), until recently spontanesouly responding to the creative call again. Along the way, Nimo explored what it meant to serve people--working with a group of slum children in India at the Gandhi Ashram, to create a globally-toured arts show called Ekatva ("Oneness"). And in a way he rediscovered himself, in the process coming to embody qualities like kindness, generosity, and gratitude.
The range of topics Nimo's young life and work have touched are ecclectic to say the least -- from higher education and business, to immigrant/diaspora experience, to music industry stardom, to service and non-profit work to just living a true, fulfilling, authentic life.
On July 26, we'll get to delve into some of those topics -- through stories and music -- and further inspire the powerful light that exists in all of us. All are warmly welcome.

The Empty Hands Album is completely offered as a gift, downloadable here.

MORE LINKS:
Watch the "Grateful" Music Video
Read the recently published article, Empty Hands, Full Heart: Music for the Soul
Watch Nimo's TEDx Talk
Follow FB updates from the inspiring Empty Hands Tour