COVID-19
In-depth info for Indians in Atlanta/Georgia. Click here
CANCELLED: Riyaaz Qawwali Music Concert
3/21/2020 7:30 PM
Riyaaz Qawwali Music Concert at Cannon Chapel
SATURDAY, MARCH 21, 2020, 7:30 – 9PM EDT
CANCELLED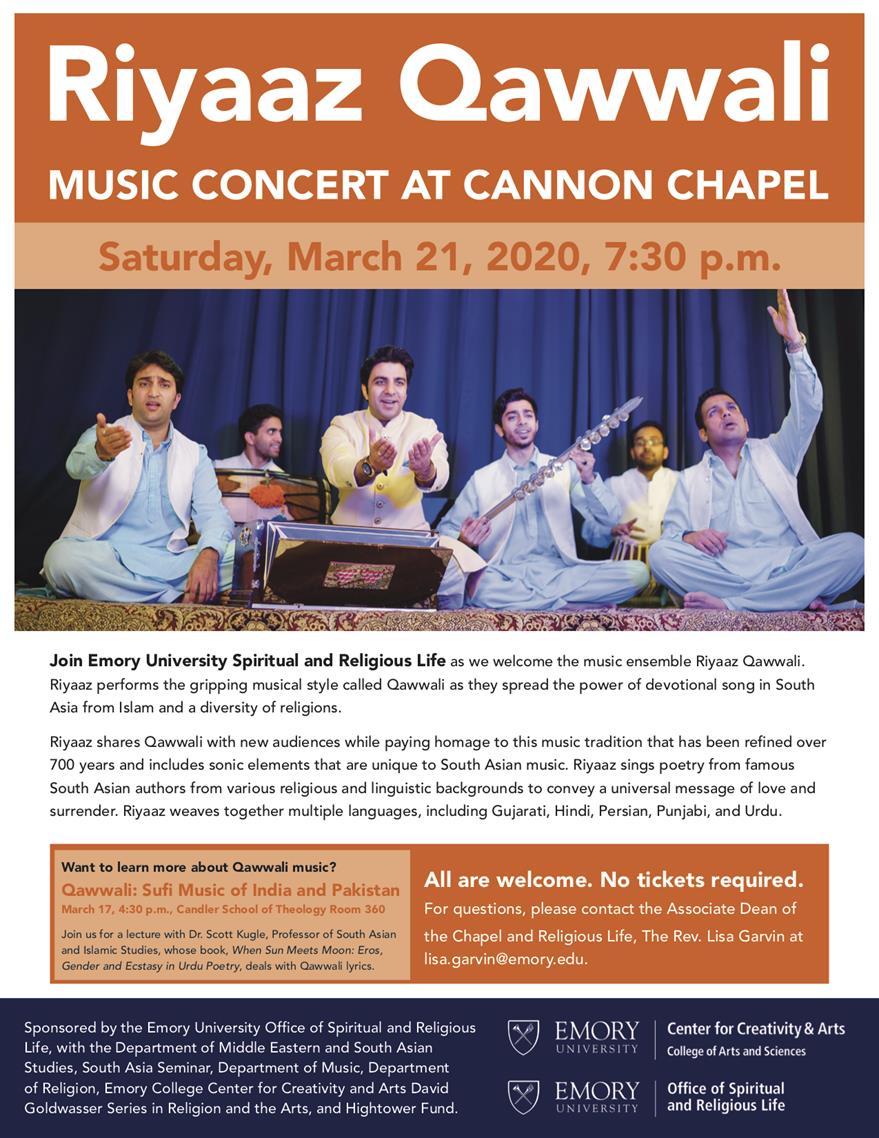 | | |
| --- | --- |
| Location | Canon Chapel, Emory University |
| University Event Topic | Arts, Diversity, Religion & Ethics, Student & Campus Life, Other |
| School | All Emory University |
| Department / Organization | Arts at Emory, Center for Creativity & Arts, Middle Eastern and South Asian Studies, Music Department, Religion Department, Religious Life, South Asian Studies, The Hightower Fund, University Chaplain |
| Building/Room | Cannon Chapel |
| Meeting Organizer/Sponsor | Sponsored by the Emory University Office of Spiritual and Religious Life, with the Department of Middle Eastern and South Asian Studies, South Asia Seminar, Department of Music, Department of Religion, Emory College Center for Creativity and Arts David Goldwasser Series in Religion and the Arts, and Hightower Fund. |
| Speaker/Presenter | Riyaaz Qawwali |
| Event Open To | All (Public), All Students, Alumni, Emory College Students, Emory Community, Faculty, Staff |
| Cost | Free |
| Registration / R.S.V.P. link | www.facebook.com… |
| Contact Name | The Rev. Lisa Garvin |
| Contact Email | lisa.garvin@emory.edu |
| More Info | www.religiouslife.emory.edu… |
Join Emory University Spiritual and Religious Life as we welcome the music ensemble Riyaaz Qawwali. Riyaaz performs the gripping musical style called Qawwali as they spread the power of devotional song in South Asia from Islam and a diversity of religions.
Riyaaz shares Qawwali with new audiences while paying homage to this music tradition that has been refined over 700 years and includes sonic elements that are unique to South Asian music. Riyaaz sings poetry from famous South Asian authors from various religious and linguistic backgrounds to convey a universal message of love and surrender. Riyaaz weaves together multiple languages, including Gujarati, Hindi, Persian, Punjabi, and Urdu.
Join the Facebook event here: www.facebook.com….
All are welcome. No tickets necessary.