CANCELED: Sunday FUNday: Embellishing Elephants
4/26/2020 1:00 PM
Sunday FUNday: Embellishing Elephants
SUNDAY, APRIL 26, 2020, 1 – 4 PM
CANCELED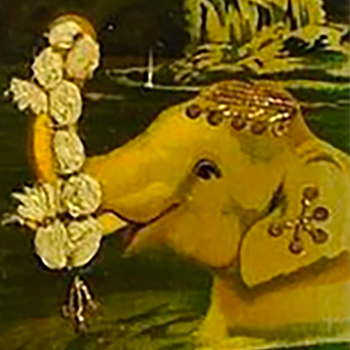 The Ravi Varma Fine Art Lithographic Press in Bombay reproduced paintings of Hindu deities, scenes from the great Indian epics the Mahabharata and Ramayana, and more by Raja Ravi Varma and other painters. These prints, more affordable than original paintings, were soon present in homes across India. The images were embellished as acts of devotion with bits of silk, pearls, glitter, and golden threads. View Laxmi, Saraswati, Rama, Krishna, and many others embellished by different hands in different ways in the exhibition Transcendent Deities of India, and then come to the studio to embellish an image of an Indian elephant.
Sunday FUNday is a free, drop-in event for all families. No registration is required.
Support for Sunday FUNdays is provided by The David R. Clare and Margaret C. Clare Foundation.
| | |
| --- | --- |
| Location | Thalia N. Carlos Education Center |
| Event type | Michael C. Carlos Museum |
| Department / Organization | Carlos Museum |
| Membership Link | carlos.emory.edu… |