Vedanta Center of Atlanta: March events
3/27/2016 10:30 PM
Vedanta Center of Atlanta: March events
Time: There is silent meditation in the Chapel from 10:30-11am, before each Sunday's talk. After the talk, devotees and friends meet in the Monastery from noon to 1:30pm, for tea, coffee, snacks and a continuation of our spiritual fellowship. Please join us! PS: Please be on time. The service starts promptly at 11AM.

Venue: 2331 Brockett Rd, Tucker, GA 30084
Contact: (770) 938-6673 ; http://vedantaatlanta.org, http://vedantaatlanta.org/calendar-of-activities-events/

See Calendar for details about any particular Sunday.

Dates:
March 6 @ 11am
Speaker: Rabbi Yoel Glick
"The Essential Qualities of a Spiritual Seeker"
The spiritual life is an extraordinary adventure. The Bhagavad Gita calls it the razor's edge. The goal is lofty and the rewards are great, but the path is both difficult and demanding. We need to be well equipped if we are to succeed in our quest. In this talk, Rabbi Yoel Glick will look at the tools that the great teachers of humanity have given us to aid us in walking the path.

Rabbi Yoel Glick is a rabbi with Orthodox ordination, the founder of the first school for Jewish meditation and spirituality in the Old City of Jerusalem, director of daatelyon.org - an online center for spiritual training and wisdom, a spiritual seeker who has spent time in ashram and studied the mystical traditions of the major world religions. Reb Yoel is a teacher, guide and mentor who moves between the city of Jerusalem and a small village in the Pyrenees Mountains of France, opening people's hearts and minds - connecting them to themselves, to the world around them - to the truth at the core of their being.

Note: There is silent meditation in the Chapel from 10:30-11am, before each Sunday's talk. After the talk, devotees and friends meet in the Monastery from noon to 1:30pm, for tea, coffee, snacks and a continuation of our spiritual fellowship. Please join us!
_______
SUNDAY, MAR. 13, 11am-12pm
Sri Ramakrishna's Birthday Celebration
Come join us this Sunday for a celebration our beloved Sri Ramakrishna's birthday!!

We are doing something a little different this year. While we are not having a full puja, Dhruva will be on hand to start things off with a brief talk, there will be a food offering performed by one of our devotees, and a song provided by the choir. In addition, we invite each of you to bring a song, chant, poem, reading or your own devotional thoughts about Sri Ramakrishna to share. We ask that you keep your sharing to under five minutes long so everyone who wishes to will have a chance to participate. We will close the celebration with flower offerings from the congregation.

Please bring any food you wish to be included in the food offering to the Monastery kitchen no later than 11am!
Potluck Prasad Luncheon - 12:15- 2pm
Immediately following, in the Monastery Fellowship hall.
_______
SUNDAY, MAR. 20, 11am
Speaker: Pastor Jill Ulrici
"The Significance of Palm Sunday"
Jill Ulrici, Associate Pastor at Covenant Presbyterian Church, Atlanta, will speak with us about the significance of Palm Sunday from the perspective of her personal spiritual journey.

Jill was ordained as a Presbyterian (USA) minister in 1983 and has served congregations in the Atlanta area as well as New York City, Brooklyn, NY and Cleveland, Ohio. Jill is also a Physical Therapist which has led to her particular interest and study in the relationship between the body, mind and spirit. Jill is very involved in the interfaith community in Atlanta. She served for two years as the president of the Faith Alliance of Metro Atlanta Board, which consists of Christians, Muslims, Jews, Hindus, and Sikhs in the Atlanta area committed to fostering understanding between the different faith groups and working together on common concerns.

Jill grew up in Atlanta. She attended the University of Georgia but graduated from the Medical College of Georgia with a BS in Physical Therapy. She received her MDiv from Yale Divinity School and her DMin from Columbia Theological Seminary. She is married to Deryck Durston, a Lutheran pastor.

Also on SUNDAY, MAR. 20 at 5pm
Concert in the Fellowship Hall
"Just 'Cause" w/Jerry Brunner & Cyndi Craven
Long-time devotees of the Center, Jerry Brunner and Cyndi Craven bring us some sweet music born from decades of friendship and sharing music together in a special 90-minute concert ... snacks and tea, coffee, etc. will be available. Meet us in the Center's Fellowship Hall ... doors open at 4:30pm. Music starts at 5pm.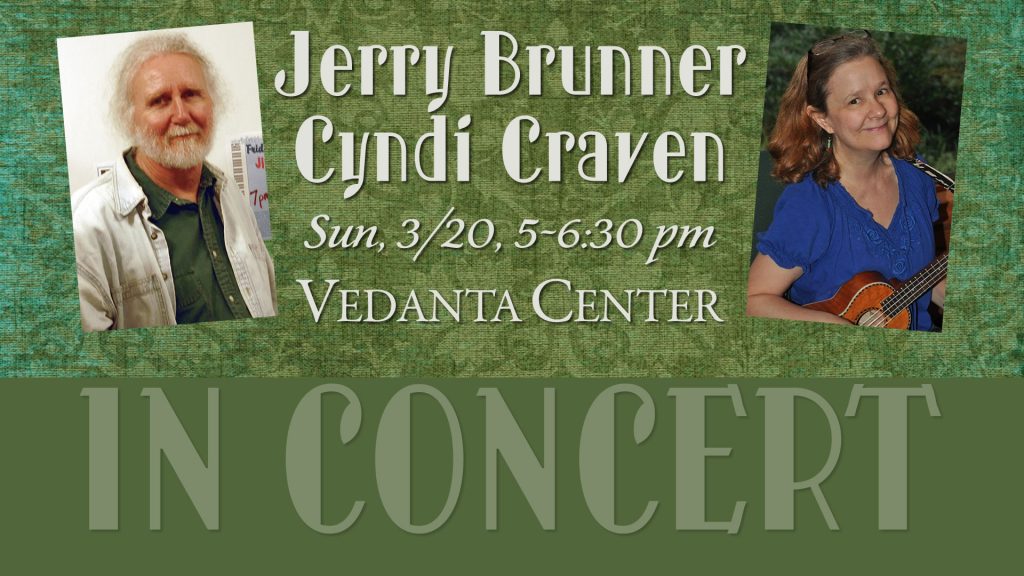 SUNDAY, MAR. 27
Speaker: Br. Shankara
"The Four Yogas As We Know Them"